Short Course Performance on a Whole New Level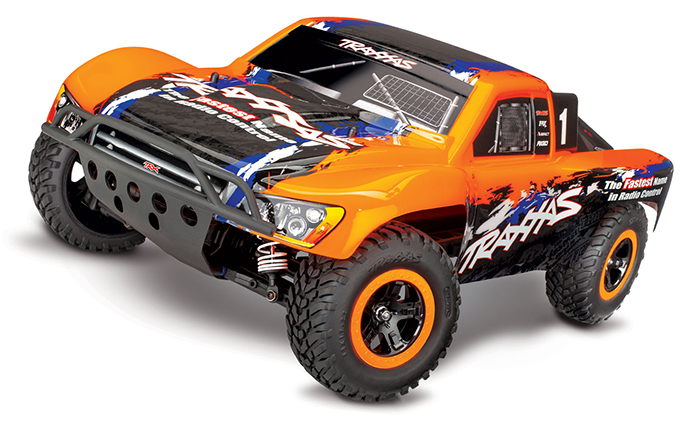 The Traxxas Slash defines the Short Course truck segment and sets the standard for durability, performance, and technology. Innovative features like Traxxas Stability Management (TSM), modular chassis design, and ultra-efficient shaft drive complement Slash's track-tested precision and rock-solid durability. Slash 4X4's extreme Velineon brushless power provides screaming 60+mph speed while the TQi radio system keeps everything under precise control. With just one drive you will see why the Traxxas Slash 4X4 elevates Short Course performance to a whole new level.
Class-Leading Brushless Power
Slash 4X4's Traxxas Velineon Brushless Power system defines a whole new generation of outrageous electric power that doesn't know limitations and boundaries. Pour in the voltage and out comes the speed in tidal waves of force harnessed by precision throttle control. For the uninitiated, prepare yourself... the sheer brutal power combined with the Slash 4X4's four-corner grip results in tire-melting acceleration and lightning fast speed. The Velineon 3s Brushless Power System features system components that work together as an optimized package, from the patented Traxxas High-Current connector to the custom-wound motor. It's engineered together from the start to deliver the ultimate in efficiency, speed, and run-time along with precision throttle response and refined control. It's brushless performance the Traxxas way: wicked fast and easy to use. Just plug it in and it works, no special knowledge or programming skills required.
~ Battery and Charger Sold Separately ~
Slash 4X4 lets you choose the performance you want!
Select the right battery to fit your needs from the options below
| | | | |
| --- | --- | --- | --- |
| Speed | 55 +KPH | 64 +KPH | 98 +KPH |
| Battery | NiMH 3000mah | 7.4 Lipo 2S 5800mah | 5000mAh 11.1v 3-Cell Lipo |
| Pinion/Spur | 13-T / 54-T | 19-T / 54-T | 19-T / 54-T |
| Skill Level | 1 | 4 | 5 |
VIDEO SLASH TSM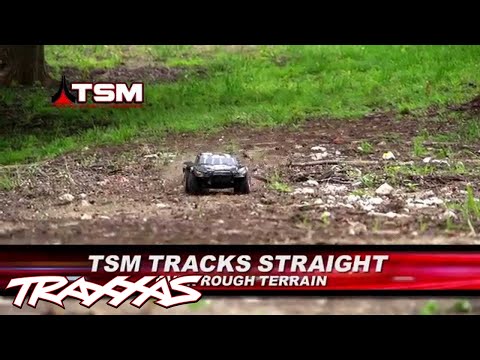 Watch Traxxas Stability Management in Action! - YouTube
Video will open in a new window
Traxxas Stability ManagementTM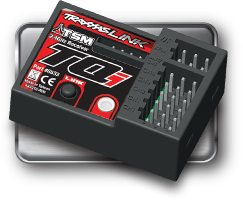 Traxxas Stability ManagementTM (TSM) makes it possible to experience all the extreme power, speed, and acceleration that was engineered into Traxxas models by making it much easier to control the vehicle on common slippery surfaces such as loose dirt, smooth concrete, and even ice and snow. Punch it off the line and TSM goes to work sensing the vehicle's direction and making steering corrections to provide straight-ahead fullthrottle acceleration without fishtailing, spinouts, and loss of control. TSM also works during cornering, first making intuitive corrections to maintain the vehicle's line, then hammer the throttle earlier in the turn for much faster exit speeds. Braking is dramatically improved as TSM works to keep Traxxas trucks arrow straight until they come to a complete stop. Traxxas TSM gives all the benefits modern electronic stabilization has to offer without intruding on driving fun or introducing unexpected side effects that can be found on other systems such as drastically reduced turning radius, braking assistance that times out (quits), throttle restrictions, and an overall disconnected driving feel. Traxxas engineers developed superior tuning algorithms that run on high-speed, precision electronic components to create a system that works invisibly, in the background, without ever limiting throttle. TSM can be fine tuned (or turned off) for different surfaces by simply adjusting the multi-function knob on the TQi transmitter, or by adjusting the slider in the Traxxas Link app. The result is driving faster, with more ease, and having more fun. In fact, the driver may not even realize how much TSM is helping until it is turned off and their driving skills are tested without it!

Everything is waterproof and Traxxas-tough as you'd expect. This is short course performance on a whole new level!
TSM BENEFITS
TSM makes Traxxas vehicles easier to drive, particularly on loose surfaces
TSM makes driving more fun by allowing the driver to accelerate harder and drive faster with much greater control
TSM works to stabilize vehicles over rough surfaces as the gyro effect of the spinning front tires continues to "steer" when the vehicle is in the air
TSM dramatically improves braking performance, preventing the vehicle from spinning out
TSM allows faster cornering speeds
TSM never restricts throttle (or fun!)
TSM allows the driver to accelerate harder when exiting a turn
TSM works invisibly in the background
The driver maintains their connected feel with the vehicle
The amount of TSM assistance is fully adjustable •
TSM can be turned off or adjusted from the TQi Transmitter
TSM is fully compatible with Traxxas Link
TSM does not require any complicated set up or instructions.
Precision 2.4GHz Control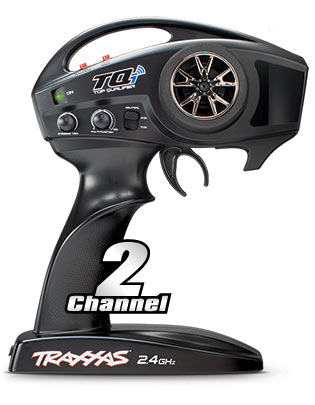 Traxxas Slash 4X4 is equipped with the world's most advanced Ready-To-Race® radio system. The all-new Traxxas® TQi™ arrives with a full complement of tuning features and offers the unbeatable convenience of "no channels, no crystals" 2.4GHz technology—but that's just the beginning. Automatic model recognition instantly recalls your settings for up to 30 Traxxas Link-enabled models. Just switch on and drive, no naming or "model memory" settings required. Power up the transmitter and the model you want to drive, and the settings for that model are dialed in immediately! The TQi 2.4GHz transmitter is fully adjustable: steering and throttle end points can be set precisely and the Multi-Function knob can be programmed to control Traxxas Stability Management (TSM), Steering Sensitivity (Expo), Throttle Sensitivity (Expo), Steering Percentage (Dual Rate), Braking Percentage (Dual Rate), or Throttle Trim. TQi's ergonomic case design provides all-day driving comfort, and the unique internal antenna contributes to its sleek, modern look.
Training Mode™
Traxxas' exclusive patented Training Mode let's everyone get in on the racing action. Just press a button to limit full-throttle power to 50%. This allows young or new drivers to safely develop their control skills before unlocking full power Traxxas Slash 4X4. Training mode even makes it easy to hand the transmitter over to your friends who have never driven a radio controlled truck before.
Sealed Watertight Receiver Box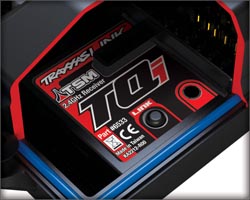 Slash 4X4's receiver is fully enclosed for protection from the elements. The antenna and servo wires route neatly through a patented watertight seal, and a custom blue O-ring seals the receiver box to protect the receiver from water. The receiver can be removed for service and aftermarket receivers can be installed without losing the sealing properties of the box.
Digital High-Torque Waterproof Steering Servo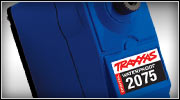 A race truck needs a powerful steering servo for responsive performance. A Traxxas digital high-torque, ball bearing steering servo comes standard for precision control, quick response, and unmatched torque—all in a waterproof case. It has over 50% more torque than the Rustler's 2056 servo and is 25% faster! That's 125 oz-in torque, 0.16-second speed!
MODEL 68086-4: Fully assembled, Ready-To-Race® with Traxxas Stability ManagementTM, TQi™ 2.4GHz radio system, Velineon® Brushless Power System, and Race Replica painted body.
Charger and Battery required to complete the Kit
Battery and Charger Sold Separately
(39-68086-4ORN)
| | |
| --- | --- |
| SKU | 39-68086-4ORN |
| Barcode # | 0020334683410 |
| Brand | TRAXXAS |
| Shipping Weight | 4.0000kg |
| Shipping Width | 0.650m |
| Shipping Height | 0.250m |
| Shipping Length | 0.310m |
| Shipping Cubic | 0.050375000m3 |
Be The First To Review This Product!
Help other RCMA users shop smarter by writing reviews for products you have purchased.
---
Others Also Bought
---
More From This Category