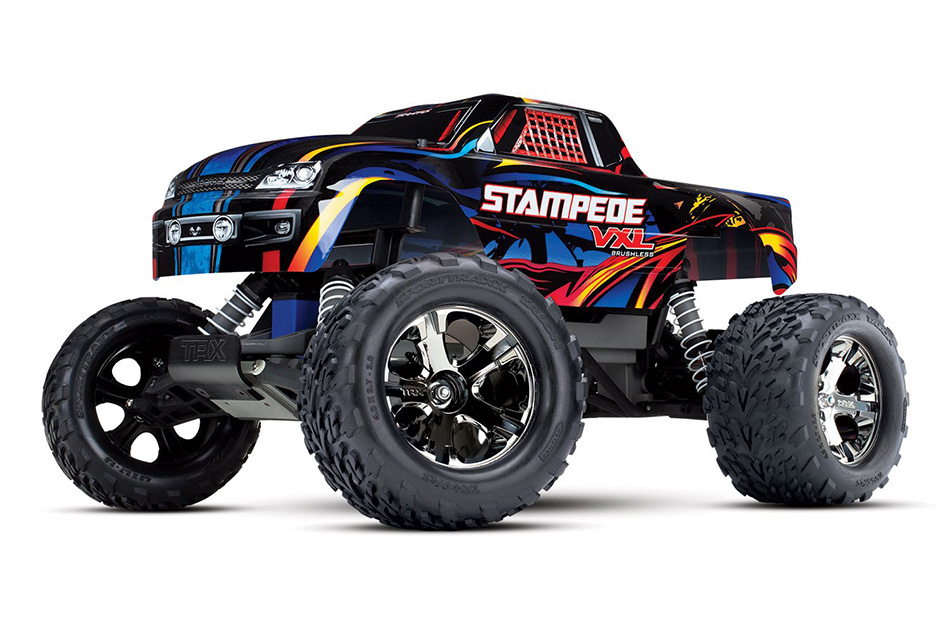 The Stampede VXL defines extreme monster truck performance. Extreme Velineon® brushless power muscles the Stampede to speeds of 65mph and beyond with innovative Traxxas Stability Management® (TSM) to make the power more accessible. Experience speed and throttle response like you've never seen before in a monster truck. Pop a wheelie at 50mph and you'll appreciate the standard wheelie bar. Fully waterproof electronics ensure that Stampede VXL is ready for all-weather fun. Engineered for speed and built Traxxas Tough™, the Stampede VXL ushers in a new era of extreme-performance monster trucks.
QUICK FEATURES ON Stampede VXL (#36076-4)
Traxxas Stability Management
TQi™ 2.4GHz Transmitter and Receiver
Waterproof Electronics
Traxxas High-Current Connector
Maxx® Cable 12-Gauge Wiring
Digital High-Torque Waterproof Steering Servo
Magnum 272 Transmission with Steel Gears
Precision Steel Turnbuckles with Heavy-Duty Rod Ends
Metric Hex Hardware
Battery and Charger Sold Separately
Traxxas Stability Management®
Traxxas Stability Management (TSM) lets you experience the Stampede VXL's extreme power, speed, and acceleration by making it much easier to control on slippery surfaces such as loose dirt, smooth concrete, and even ice and snow. Go ahead, punch it off the line! TSM senses the vehicle's direction and makes steering corrections to provide full throttle acceleration without fishtailing or spinouts. When cornering, TSM intuitively corrects the vehicle's line for faster exit speeds. TSM even improves braking by keeping the truck arrow straight until you reach a complete stop. TSM does all this without intruding on driving fun or introducing unexpected side effects. TSM can be fine-tuned (or turned off) for different surfaces by simply adjusting the multi-function knob on the TQi transmitter, or by adjusting the slider in the Traxxas Link app. Drive faster and have more fun with TSM. You may not even realize how much it is helping until you try to drive without it.
TSM BENEFITS
TSM makes Traxxas vehicles easier to drive, particularly on loose surfaces
TSM makes driving more fun by allowing the driver to accelerate harder and drive faster with much greater control
TSM works to stabilize vehicles over rough surfaces as the gyro effect of the spinning front tires continues to "steer" when the vehicle is in the air
TSM dramatically improves braking performance by preventing spinouts
TSM allows faster cornering speeds
TSM never restricts throttle (or fun!)
TSM allows the driver to accelerate harder when exiting a turn
TSM works invisibly in the background
The driver maintains their connected feel with the vehicle
The amount of TSM assistance is fully adjustable
TSM can be turned off or adjusted from the TQi Transmitter
TSM is fully compatible with Traxxas Link
TSM does not require any complicated set up or instructions.
5-channel Micro Receiver with Fail-Safe Security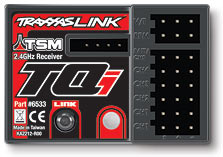 The TQi 2.4GHz micro receiver fits easily into any vehicle, and features dual channel-1 outputs for easy installation in vehicles with dual steering servos—no Y-harness necessary! The integrated LINK button makes it fast and easy to bind the receiver, and the two-color LED indicates power-on and bind status for fool-proof control and convenience. Traxxas Link Model Memory allows the receiver to recognize up to thirty TQi 2.4GHz Traxxas Link enabled transmitters—just switch on and drive. In the event of signal loss due to an accidental switch-off or depleted batteries, the receiver will automatically return the throttle to neutral and hold the last commanded steering position. The Fail Safe programming is built-in and does not need to be set or activated. Three telemetry ports are incorporated in the 5-channel receiver to allow real-time data to be transmitted from your Traxxas model to the TQi transmitter.
Velineon® VXL-3s ESC:
Innovative waterproof design
Three programmable
drive profiles:

Sport Mode - forward / brake / reverse
Race Mode - forward / brake
Training Mode™ - 50% forward / brake / 50% reverse (patent pending)

Integrated on/off switch
Traxxas EZ-Set® one-button setup
Large heat sink
High-efficiency MOSFET transistors
Built-in two-stage low-voltage detection for LiPo batteries.
NiCad and NiMH battery packs: 4-9 cells (4.8 to 10.8 volts)
LiPo battery packs: 2-3 cells (7.4 to 11.1 volts)
For more info about the Velineon VXL-3s ESC click here
Velineon® 3500 Brushless Motor:
Ultra high-temperature sintered Neodymium magnets
Optimized for power and efficiency in 1/10th scale vehicles
Consistent, high-power output, run after run
Low-maintenance, unique Traxxas design
Efficient, high-speed ball bearings
Precision-balanced rotor
Protective end cap
10-Turn, 3500kV
Rebuildable
Hex hardware
Brilliant blue-anodizing finish
Silicon steel laminations
Delivers more power than comparable brushed motors
For more info about the Velineon 3500 Brushless motor click here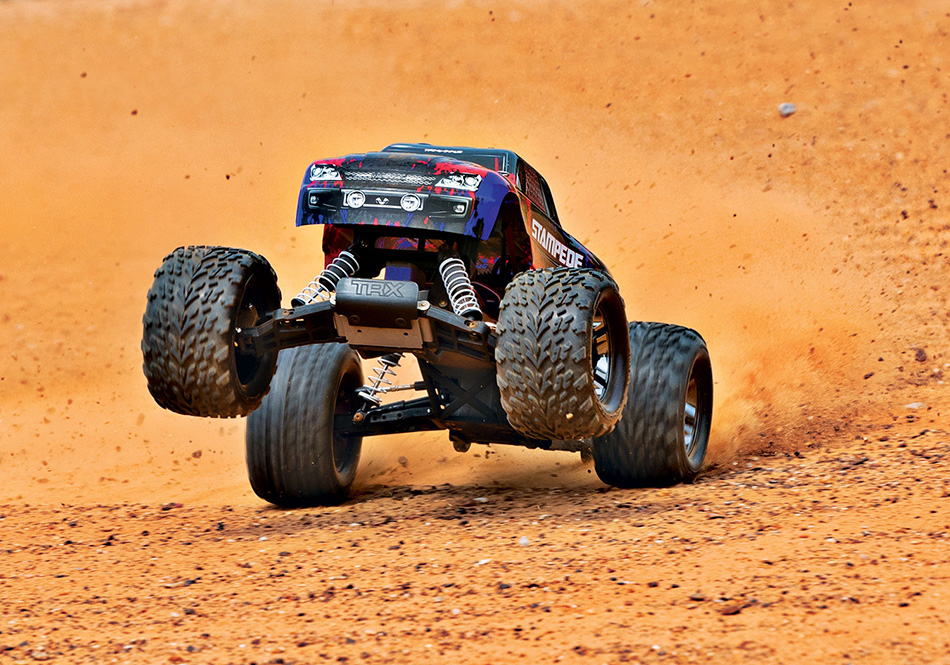 The World's Most Advanced Radio System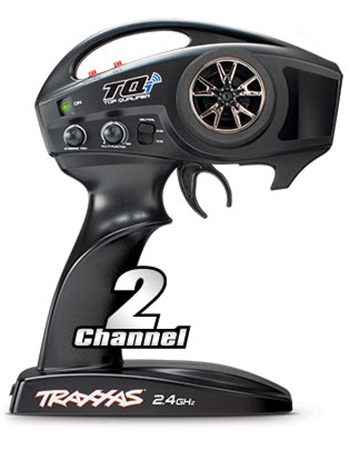 Traxxas Slash VXL is equipped with the world's most advanced Ready-To-Race® radio system. The Traxxas® TQi™ arrives with a full complement of tuning features and offers the unbeatable convenience of "no channels, no crystals" 2.4GHz technology—but that's just the beginning. Automatic model recognition instantly recalls your settings for up to 30 Traxxas Link-enabled models. Just switch on and drive, no naming or "model memory" settings required. Power up the transmitter and the model you want to drive, and the settings for that model are dialed in immediately! The TQi 2.4GHz transmitter is fully adjustable: steering and throttle end points can be set precisely, and the Multi-Function knob can be programmed to control Traxxas Stability Management (TSM), Steering Sensitivity (Expo), Throttle Sensitivity (Expo), Steering Percentage (Dual Rate), Braking Percentage (Dual Rate), or Throttle Trim. TQi's ergonomic case design provides all-day driving comfort, and the unique internal antenna contributes to its sleek, modern look.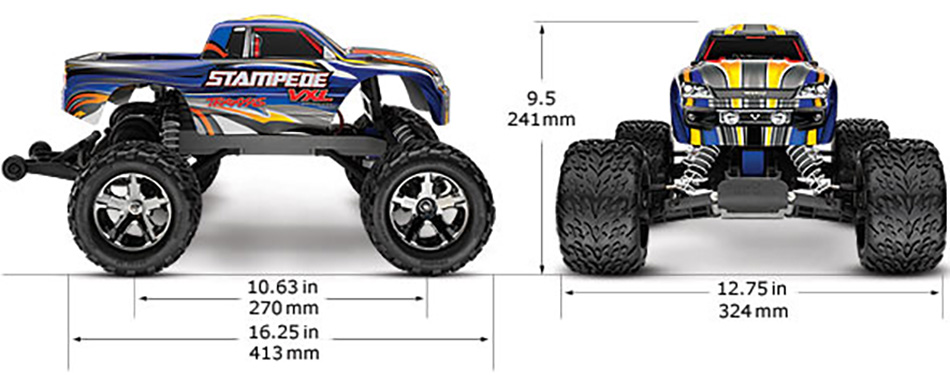 100% Assembled and Ready for your Battery and Charger
The Stampede VXL rolls out of the box Ready-To-Race® with the advanced TQi 2.4GHz 2-channel radio system and powerful Velineon Brushless Power System. World-class engineering and Traxxas' attention-to-detail are some of the reasons why Stampede is a perennial favorite for heavy-duty monster truck fun. No other truck offers the level of support of the Traxxas Stampede VXL with its unparalleled parts availability. A staff of skilled Traxxas representatives make it convenient to find answers to your questions via phone, website, or email. We're here to ensure that your R/C experience is enjoyable, easy, and fun.
MODEL 36076-4: Fully assembled with Traxxas Stability Management®, TQi™ 2.4GHz
radio system, Velineon® Brushless Power System, and ProGraphix® painted body.
(36076-4)
| | |
| --- | --- |
| SKU | 36076-4 |
| Barcode # | 0020334364319 |
| Brand | TRAXXAS |
| Shipping Weight | 4.0000kg |
| Shipping Width | 0.540m |
| Shipping Height | 0.250m |
| Shipping Length | 0.360m |
| Shipping Cubic | 0.048600000m3 |
Be The First To Review This Product!
Help other RCMA users shop smarter by writing reviews for products you have purchased.
---
Others Also Bought
---
More From This Category